According the 2010 Census, Bergen County is the most populated county in the state of New Jersey with over 900,000 residents. The county is located in the northeastern corner of New Jersey and it is a part of the New York City Metropolitan Area. It is situated directly across the George Washington Bridge from Manhattan. In Bergen County there are 70 municipalities, see interactive map of Bergen County, NJ.

Bergen County has a very well developed transportation network, which provides a fast and easy commute for New York City travelers via train, bus and waterways. In Bergen County there are a number of large employers (headquarters) ranging from medical, financial, household goods to automotive industries. Retail industry is concentrated the Paramus area, which is the backbone of the Bergen County economy.

Bergen County has been home for people seeking close proximity to New York City and quality of life provided by generous amenities of each Bergen County municipality.
Average Effective Property Tax Rate for Bergen County
----
United States Presidential Election
Interactive Map of Bergen County, NJ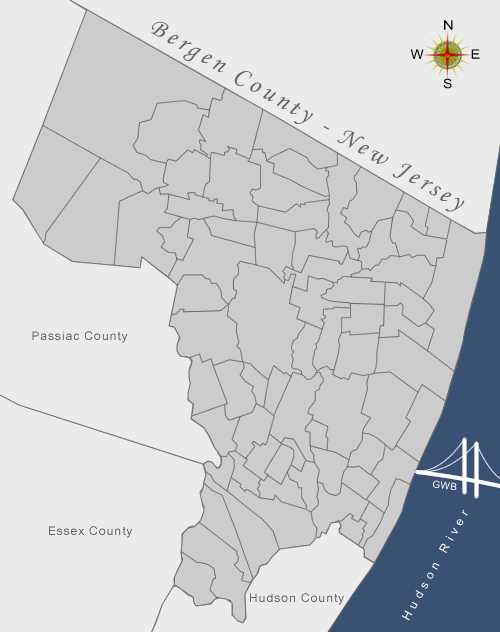 Information reliable but not guaranteed - © Madison AdamsTM - 2019
| | | | | |
| --- | --- | --- | --- | --- |
| MUNICIPALITY | ZIP CODE | AVERAGE PRICE* | EFFECTIVE TAX (%) | POPULATION |
| Allendale | 07401 | $678,223 | 2.186 | 6,505 |
| Alpine | 07620 | $2,188,303 | 0.683 | 1,849 |
| Bergenfield | 07621 | $400,508 | 3.024 | 26,764 |
| Bogota | 07603 | $350,930 | 3.412 | 8,187 |
| Carlstadt | 07072 | $413,255 | 1.911 | 6,127 |
| Cliffside Park | 07010 | $484,941 | 2.096 | 24,046 |
| Closter | 07624 | $684,269 | 2.224 | 8,373 |
| Cresskill | 07626 | $735,221 | 2.293 | 8,573 |
| Demarest | 07627 | $888,800 | 2.117 | 4,881 |
| Dumont | 07628 | $371,468 | 3.027 | 17,479 |
| East Rutherford | 07073 | $355,798 | 1.827 | 8,913 |
| Edgewater | 07020 | $709,929 | 1.414 | 13,978 |
| Elmwood Park | 07407 | $339,684 | 2.399 | 19,403 |
| Emerson | 07630 | $489,782 | 2.524 | 7,401 |
| Englewood | 07631 | $468,474 | 2.399 | 27,147 |
| Englewood Cliffs | 07632 | $1,406,001 | 1.006 | 5,281 |
| Fair Lawn | 07410 | $434,350 | 2.764 | 32,457 |
| Fairview | 07022 | $415,695 | 2.574 | 13,835 |
| Fort Lee | 07024 | $836,725 | 2.231 | 39,642 |
| Franklin Lakes | 07417 | $1,037,476 | 1.529 | 10,590 |
| Garfield | 07026 | $292,505 | 2.496 | 30,487 |
| Glen Rock | 07452 | $669,295 | 2.643 | 11,601 |
| Hackensack | 07601 | $335,186 | 3.309 | 43,010 |
| Harrington Park | 07640 | $568,041 | 2.553 | 4,664 |
| Hasbrouck Heights | 07604 | $444,235 | 2.740 | 7,473 |
| Haworth | 07641 | $695,586 | 2.458 | 3,382 |
| Hillsdale | 07642 | $521,030 | 2.602 | 4,998 |
| Ho-Ho-Kus | 07423 | $859,020 | 1.876 | 4,078 |
| Leonia | 07605 | $558,547 | 2.568 | 8,937 |
| Little Ferry | 07643 | $320,741 | 3.317 | 10,626 |
| Lodi | 07644 | $303,334 | 2.737 | 24,136 |
| Lyndhurst | 07071 | $367,441 | 2.373 | 20,554 |
| Mahwah | 07430 | $655,200 | 1.697 | 25,890 |
| Maywood | 07607 | $393,070 | 2.566 | 9,555 |
| Midland Park | 07432 | $483,084 | 2.550 | 7,128 |
| | | | | |
| --- | --- | --- | --- | --- |
| MUNICIPALITY | ZIP CODE | AVERAGE PRICE* | EFFECTIVE TAX (%) | POPULATION |
| Montvale | 07645 | $635,124 | 2.071 | 7,844 |
| Moonachie | 07074 | $162,899 | 2.318 | 2,708 |
| New Milford | 07646 | $425,234 | 2.966 | 16,341 |
| North Arlington | 07031 | $343,516 | 2.910 | 15,392 |
| Northvale | 07647 | $407,669 | 2.483 | 4,640 |
| Norwood | 07648 | $591,532 | 2.269 | 5,711 |
| Oakland | 07436 | $422,496 | 2.472 | 12,754 |
| Old Tappan | 07675 | $796,958 | 1.988 | 5,750 |
| Oradell | 07649 | $597,780 | 2.610 | 7,978 |
| Palisades Park | 07650 | $520,272 | 1.581 | 19,622 |
| Paramus | 07652 | $675,693 | 1.400 | 26,342 |
| Park Ridge | 07656 | $534,458 | 2.438 | 8,645 |
| Ramsey | 07446 | $607,655 | 2.274 | 14,473 |
| Ridgefield | 07657 | $482,446 | 1.933 | 11,032 |
| Ridgefield Park | 07660 | $316,870 | 3.339 | 12,729 |
| Ridgewood | 07450 | $787,430 | 2.240 | 24,958 |
| River Edge | 07661 | $506,123 | 2.790 | 11,340 |
| River Vale | 07675 | $627,048 | 2.533 | 9,659 |
| Rochelle Park | 07662 | $370,535 | 2.446 | 5,530 |
| Rockleigh | 07647 | $1,218,262 | 0.895 | 531 |
| Rutherford | 07070 | $489,619 | 2.447 | 18,061 |
| Saddle Brook | 07663 | $387,682 | 2.445 | 13,659 |
| Saddle River | 07458 | $1,320,522 | 0.924 | 3,152 |
| South Hackensack | 07606 | $390,000 | 2.561 | 2,378 |
| Teaneck | 07666 | $407,043 | 2.855 | 39,776 |
| Tenafly | 07670 | $946,188 | 2.211 | 14,488 |
| Teterboro | 07608 | - | 1.018 | 67 |
| Upper Saddle River | 07458 | $846,363 | 1.890 | 8,208 |
| Waldwick | 07463 | $423,623 | 2.623 | 9,625 |
| Wallington | 07057 | $342,708 | 2.658 | 11,335 |
| Washington Twp | 07676 | $522,212 | 2.133 | 9,102 |
| Westwood | 07675 | $447,821 | 2.420 | 10,908 |
| Woodcliff Lake | 07677 | $723,367 | 2.075 | 5,730 |
| Wood-Ridge | 07075 | $417,595 | 2.535 | 7,626 |
| Wyckoff | 07481 | $704,346 | 1.801 | 16,696 |
Average Price reflects the average price of single family homes sold in particular town. It is calculated based on the twelve month moving average (geometric mean).

General Tax Rate is used to determine the amount of real estate tax levied upon a particular property. This rate is used to compute the tax bill.

Effective Tax Rate is used to compare of one district to another district based on the assumption that all districts are at 100% valuation. This rate has been computed by the State of New Jersey Department of the Treasury using County Equalization Average Ratios. This rate is NOT to be used to compute the tax bill.

Homes Sold is the number of single family homes sold in a particular district in the past 12 month period.

Data Source: US Census 2010, NJ MLS, State of New Jersey Department of the Treasury
New Listings in Saddle River

The data relating to the real estate for sale on this web site comes in part from the Internet Data Exchange Program of the NJMLS. Real estate listings held by brokerage firms other than Madison Adams are marked with the Internet Data Exchange logo and information about them includes the name of the listing brokers. Some properties listed with the participating brokers do not appear on this website at the request of the seller. Listings of brokers that do not participate in Internet Data Exchange do not appear on this website.
NJMLS is the owner of the copyrights of the listing content displayed for IDX. The NJMLS Internet Data Exchange Logo is a service mark owned by the NJMLS, Inc. All information deemed reliable but not guaranteed. Last date updated: 02/16/2019 00:05 AM Source: New Jersey Multiple Listing Service, Inc. "©2019 New Jersey Multiple Listing Service, Inc. All rights reserved."